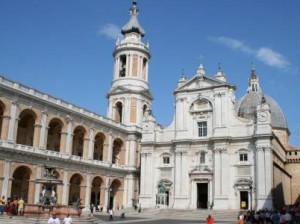 Holiday Loreto, Loreto is located 127 m (416.67 ft) above sea-level on the right bank of the Musone river. It is 22 km by rail SSE of Ancona. Like many places in the Marche, it provides good views from the Apennines to the Adriatic.
Loreto's main monuments occupy the four sides of the piazza: the college of the Jesuits, the Palazzo Comunale (formerly the Palazzo Apostolico), designed by Bramante, with an art gallery with works of Lorenzo Lotto, Vouet and Annibale Carracci as well as a collection of maiolica, and the Shrine of the Holy House (Santuario della Santa Casa).
The city has also a massive line of walls designed by Antonio da Sangallo the Younger, which were erected from 1518 and reinforced in the 17th century.